Reach more home owners! Advertise with Smart Homes Now!
Reach millions of home owners now! Advertise with us!
Email Us
At Smart Homes Now, we're big fans of small devices that can do great things. We've featured many great small devices such as the Intel Compute Stick which turns your HDMI TV into a computer. Or this awesome multi tool.
Which is why we're excited about the Freaks3D. It's an unusual name for a great device. The makers tout it as the World's First Portable 3D Printer.
3D Printers are big and sometimes cumbersome. But the Freaks3D is small and while it is a complex machine with many moving parts, you can move it around. The Freaks3D only weighs 2.945kg.
That's right. It's a portable 3D printer that you can carry around. With one hand. And you can choose from a variety of portable handles. Or create one yourself.
Check out the video below

Now we know that this isn't your professional grade 3D printer. It's meant for the home. The makers, ElecFreak Tech, said that it's aimed at the  maker space, school labs and school classes.
Unleash your creativity or your kids with the Freaks3D. Teach your kids how to design and they can  print their creations in 3D.   Use this for school projects and lessons. You can even use it for the office (in case you need one).
But that doesn't mean that it scrimps on build quality. The Freaks3D printer uses extruded-aluminum beams to ensure sturdy and high-quality performance. It uses v-slot slider system to provide precise seamless positioning.
It also utilizes an all-metal nozzle head. This allows PLA/TPU filaments of a rainbow of colors without easy breaks or damage. It promises to deliver detailed layer resolution at fast speed. And you don't need to do any kind of pre-heating. Simply feed the filament into the entrance path and the printer will do the rest.
Here's another great thing about it. You can even run it on battery power. Plug it on a power bank and it is good to go. Pretty cool,right?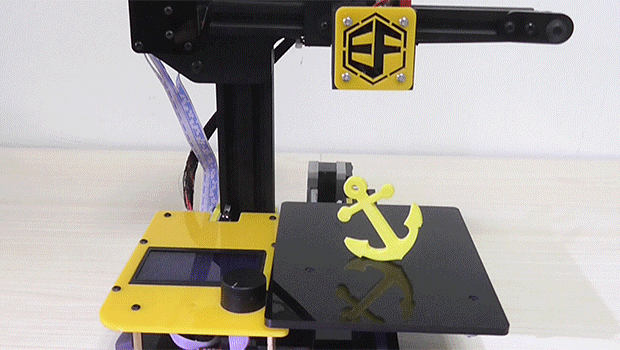 Like we mentioned, the Freaks3D Portable Printer is an Indiegogo project but it has already met its funding goal. You can still order one for yourself or for your school.
We'll put this on our Christmas Wishlist.