Reach more home owners! Advertise with Smart Homes Now!
Reach millions of home owners now! Advertise with us!
Email Us
We just love renewable energy systems. You can rely less on fossil fuels thereby reducing your carbon footprint. You're saving the planet as well. So we're glad that engineers came out with The Kodiak  Off Grid Home Solar System In A Box.
No, it's doesn't allow you to create your own celestial bodies or star systems. It's a solar energy collection system in a box.
It's an off grid home solar system in a box. According to the makers, it is one of the world's lightest and most expandable generator.
What's different about it is the use of lithium ion batteries. It doesn't the use the venerable battery systems.
Since it uses lithium ion, it's light enough to be lugged around.  It's small enough to fin on a bookshelf. And it's expandable so you can add more batteries, if you want it to charge and use appliances longer.
Here's how it works:
But what about its solar panels? Well, the Kodiak solar panels are modular and portable as well.  They only weigh 4 pounds each and can be interlocked for faster charging.
Users can connect up to 5 panels to each other. And they're all waterproof, shatterproof and semi-flexible.
Each panel has electrical connections built into both sides of the frame. This allows the power to pass through each panel when connected with each other. What's great about it is that the electrical connections are built into the panel. There's no need for extra cables or wires.
The Kodiak Solar Generator System is composed of 2 major components: the Kodiak Solar Generator , and the Predator 50 Solar Panels .
The Predator Solar Panels collect solar energy. Then the Kodiak Solar Generator stores that power inside a lithium-ion battery bank.
You can charge the Kodiak through the panels or wall charger. You can even use your car to charge the battery.
The Kodiak can power mobile devices, computers, laptops, microwave ovens, refrigerators or more.
Check out how long you can charge and power up devices.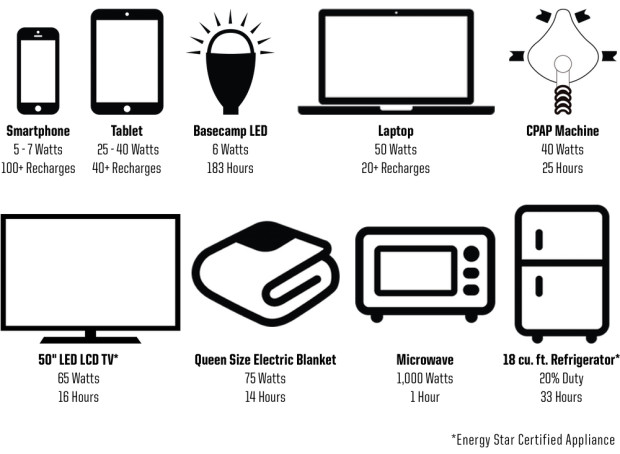 The Kodiak Solar Generator System is a great alternative to back up generators.  We're guessing that it's extremely useful if there's power outages. It's also a great way to start living off grid.
We see a lot of potential in the Kodiak  Off Grid Home Solar System In A Box.
It's currently on indiegogo and it has already met its funding goal.  You can buy it or just pledge your support for it. Check out its indiegogo page here.
Hopefully we can get our hands on it and test it ourselves.